Disclosure: This page may contain affiliate links. If you purchase a product from one of our links, we could receive a commission from the seller, however, these do not influence our editorial choices. We aim to recommend products we believe in and to not mislead our audience. Learn More »
It is impossible to imagine Korean food without cabbage—but not the green cabbage eaten raw in coleslaw or steamed as a vegetable. For tens of millions of Koreans, the one vegetable without which almost no meal is complete is kimchi–the peppery, garlicky, overwhelmingly pungent, and delicious pickled vegetable.
You don't have to be Korean to love to eat kimchi, but if you aren't familiar with how to store kimchi, you may have a problem with kimchi odor lurking in your fridge.
Simply put, there are a few easy ways to store kimchi in the fridge without the smell overpowering everything:
Use glass food containers like Pyrex with secure lids (the sealed lids are the best)
Don't leave the container untouched for too long to allow the fermentation gas to build up
Remove the container from the fridge before opening so the gases don't escape into the fridge
Use a deoderant (such as baking soda or activated charcoal) or a deoderizer to neutralize the fermentation odors
Get a specialty kimchi refrigerator if you store large amounts of kimchi
In this article, we will discuss some simple household hints for storing leftover cabbage kimchi that keep your fridge smelling fresh.
Simple household hints for controlling kimchi smell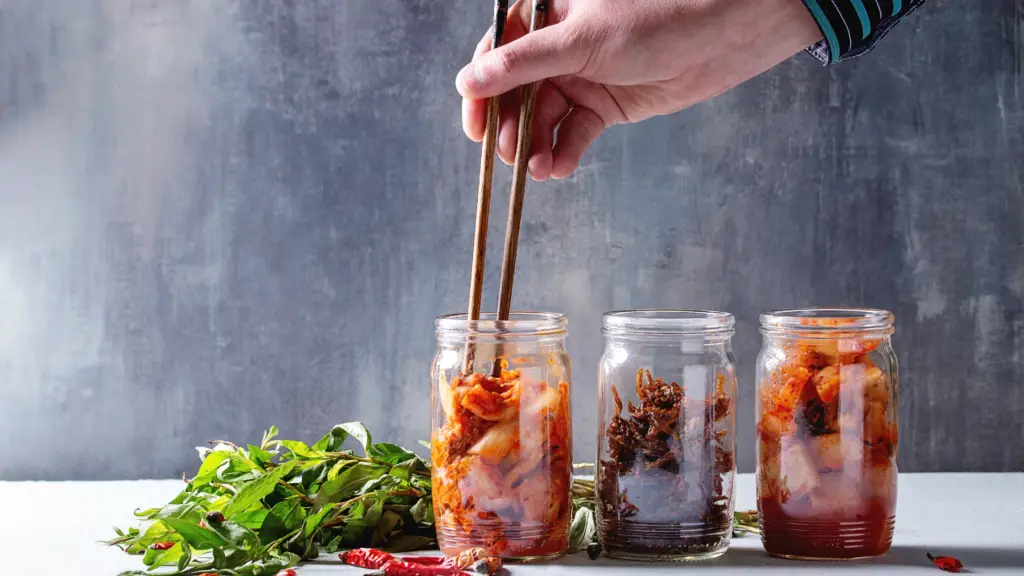 The first thing to understand about keeping leftover kimchi in the fridge is that it isn't just fermented food. It is a food that is still fermenting.
The fermentation process doesn't go as quickly at a cool temperature as it does at room temperature as kimchi is being made, but the good bacteria that make cabbage kimchi continue to do their work even in the fridge. That isn't necessarily a bad thing.
The intense odor of kimchi isn't mostly due to the odor of the vegetables (cabbage, daikon, spinach, cucumber, or any other 100 more) themselves. It's due to the smell of the breakdown of the sulfur compounds in garlic, ginger, and fish used to flavor the kimchi.
These protein-bound compounds continue breaking down slowly long after the veggies are already sour and form gas bubbles just waiting for you to open the sealed container or raise the saran wrap to let them escape.
Breathe, don't burp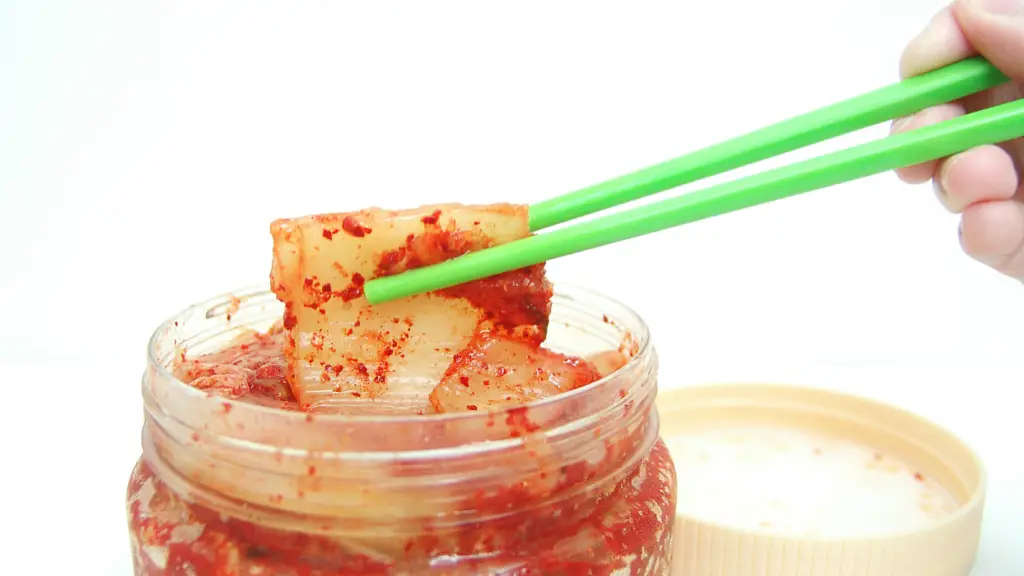 The secret to reducing odor in your fridge is making sure all the stinky gasses building up in your kimchi don't all escape at once. Eat a little kimchi every day, or at least two or three times a week.
Take your tightly sealed containers of the fermented vegetables completely out of the fridge before you open them, and then take each meal's portion from the bottom of the container, stirring as you go.
This process will release the kimchi odor into your kitchen, where your ventilation system will carry it away, instead of in your fridge. Just reseal the container tightly before you put it back in the fridge, and serve your favorite pickled cabbage again in a day or two.
Baking soda for absorbing kimchi odors
Sale
Baking Soda Fridge/Freezer Pack, 14-oz. (6 pack)
FLO-THRU TECHNOLOGY: The only baking soda brand with Flo-Thru technology that has dual panel vents for maximum odor control
ABSORBS AND DEODORIZES: Helps food in fridge or freezer taste like it should by absorbing and deodorizing food odors
FRESH TASTING FOOD: Use a new box each month help food taste fresh – one for the fridge and one for the freezer
AMERICA'S NO.1 TRUSTED BAKING SODA BRAND: Pure and natural, free from harsh chemicals
Last update on 2023-11-29 / Affiliate links / Images from Amazon Product Advertising API
A tried-and-true method of controlling odors in the refrigerator is leaving a box of baking soda on the bottom shelf. Hydrogen sulfide is heavier than air, so garlicky kimchi odor sinks to the bottom of your fridge. Placing your box of Arm and Hammer lower in your refrigerator does more good than placing it higher.
Odor scientists have made some interesting discoveries about how to use this chemical to control food odor. Baking soda set out in a dish absorbs about 70 percent of sulfur compounds floating around in your refrigerator. That means it won't eliminate the kimchi smell, but it will help.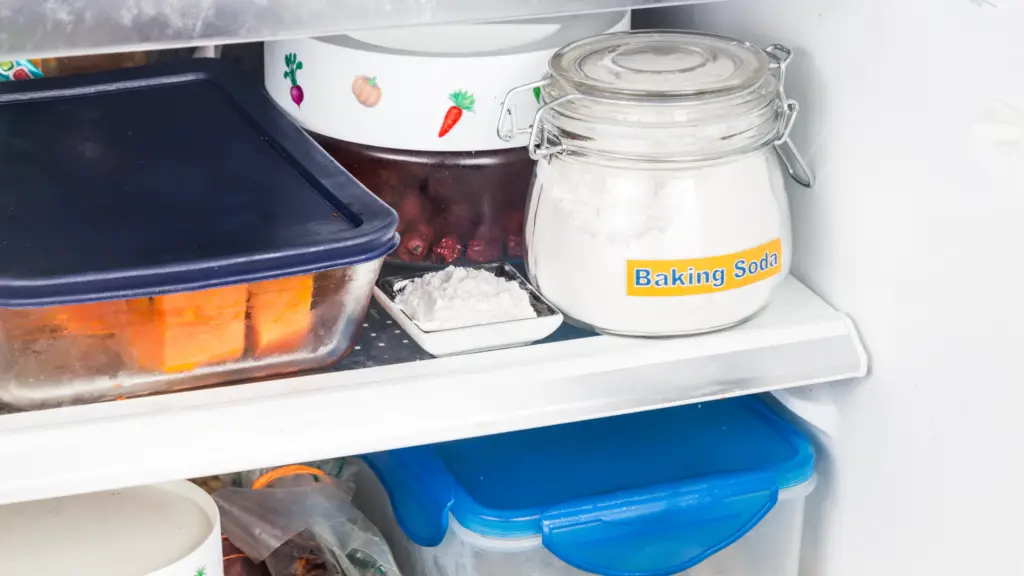 For kimchi, however, more baking soda isn't always better. The ideal amount to put out in your refrigerator is about 50 grams. That's three heaping tablespoons. Using more baking soda changes the pH of refrigerator air so kimchi smells actually get stronger, not milder.
And, of course, baking soda has to make contact with air. Just putting an unopened box of baking soda in the fridge won't do you any real good.
Activated charcoal for getting rid of kimchi smell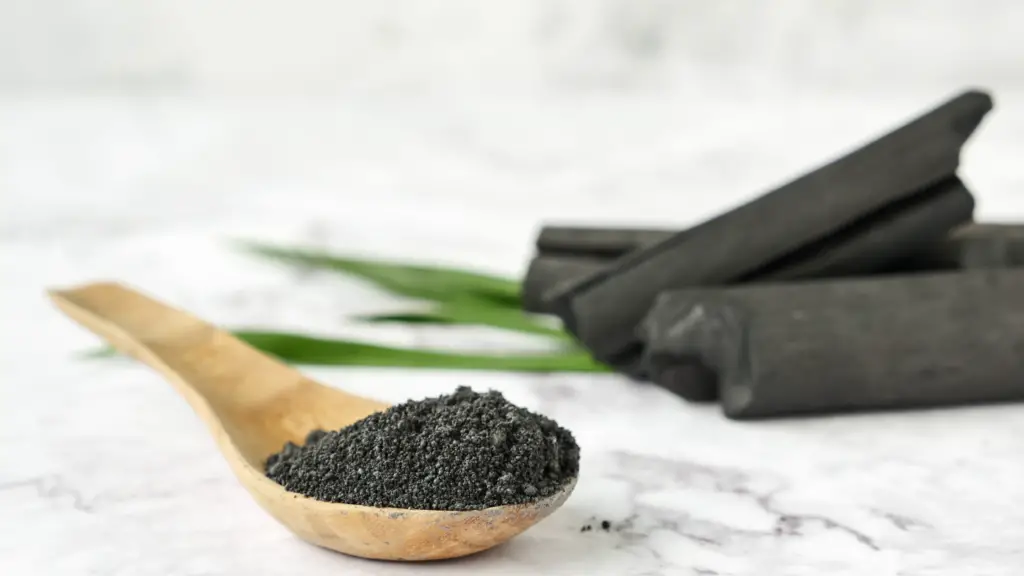 Another easy-to-use refrigerator deodorant is activated charcoal. This is the same material you might light up in your grill for a backyard barbecue, only it has been ground down to small particles, so more charcoal comes in contact with the smelly compounds in refrigerator air. (Charcoal briquettes won't work.)
A single gram of activated charcoal has over three-quarters of an acre (about 32,000 sq ft) of contact space for absorbing odors. In addition to the tiny particle size, activated charcoal is treated with chemicals that oxidize smelly molecules into odorless forms. Look for a product that you can recharge every month or so by placing it in sunlight so it can release absorbed gasses to make room for more.
Consider keeping ground coffee in your fridge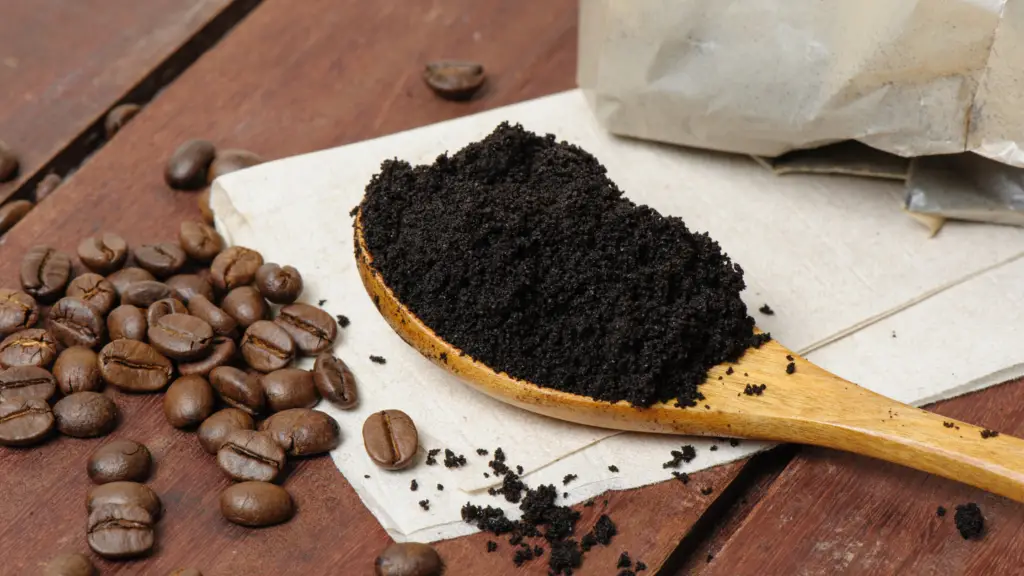 If you don't want to use baking soda or activated charcoal (or don't have any around), a great kitchen hack for reducing kimchi smells in the fridge is to use exposed coffee grounds.
Keep an open container of ground coffee on a shelf below the one you use to store your fish sauce and other fermented food. The grounds contain a chemical that sops up hydrogen sulfide gas, the chemical that makes rotten eggs and fermenting garlic (and sewer gas) stinky. 
It's the caffeine that does the work of odor removal. Decaf won't absorb kimchi odor. And there are two things to remember about using coffee grounds to eliminate refrigerator odors:
Coffee grounds can't remove odors unless they are kept in an open container, and
You probably won't want to use coffee grounds once they get rid of odors from your fridge.
What about a refrigerator deodorizer?
Baking soda, coffee grounds, and activated charcoal aren't the only things that can absorb the kimchi odor in your fridge. There are a number of commercial refrigerator deodorizers that will do a better job.
For instance, consider something like NonScents Refrigerator Deodorizer. Activated when you attach it to an inside surface of your refrigerator with a suction cup, NonScents clear out a variety of stinky food odors.
NonScents Refrigerator Deodorizer - Odor Eliminator for Fridge & Freezer - Outshines Baking Soda - Fragrance Free Air Purifier - Unscented & Long-Lasting, Freshen Your Refrigerator & Cooler (4-Pack)
SUSTAIN FRIDGE FRESHNESS: Our state-of-the-art technology is your ticket to preserving and revitalizing a consistently fresh and odorless refrigerator or freezer. Within mere hours, it banishes the most stubborn and offensive smells, leaving your food storage space free from any lingering odors.
FRAGRANCE-FREE: Unlike traditional solutions that merely mask unpleasant odors with artificial fragrances or perfumes, our cutting-edge NonScents technology tackles the problem at its root. It dissects odorous molecules on a molecular level, rendering your fridge or freezer completely odor-free.
SAFE FOR FOOD STORAGE: Your family's well-being is of paramount importance. That's why our deodorizer is meticulously crafted using non-toxic ingredients. It's a guarantee that the air inside your fridge or freezer is not just odor-free but also healthy and safe for your stored food items.
EXTENDED EFFECTIVENESS: Our deodorizer is more than just effective; it's exceptionally long-lasting. It works tirelessly to maintain your environment's freshness for an astounding period of up to 6 months. That's a remarkable 6 times longer than traditional baking soda solutions. Consistent freshness without frequent replacements.
VERSATILE AND LEAK-PROOF: Our compact and space-saving design ensures that you can place the deodorizer anywhere in your fridge or freezer, making it incredibly versatile not worrying about messy spills or leaks. It actively transforms harmful gases into harmless water molecules, actively upholding a truly fresh and odorless atmosphere.
Last update on 2023-11-29 / Affiliate links / Images from Amazon Product Advertising API
NonScents uses a mineral component called zeolite to absorb the odor chemicals in your fridge.
Some other deodorizers remove kimchi smell and other food odors with common chemicals such as hydrogen peroxide, sodium hypochlorite (the active ingredient in Clorox), and potassium permanganate. These chemicals "burn" the odor-causing sulfur in the volatile gasses emitted by stinky and decaying food.
Electric refrigerator deodorizers (ozone generators) for kimchi odor
Electric deodorizers–or ozone generators–are different from regular deodorizers in one important way: Electric deodorizers generate ozone that goes out to the odor and neutralizes it, while deodorizers often wait for odor molecules to drift over to them. 
Kimchi deodorizers aren't cheap, but they work
Battery-powered deodorizers generate ozone that doesn't just destroy kimchi odor, it also eliminates mold and bacteria. They cost $30 to $50 and more, but they are a permanent solution to kimchi odor without any chemicals that could get into your food.
Last update on 2023-11-29 / Affiliate links / Images from Amazon Product Advertising API
This model from Benks is a fantastic option with a massive 4500mAh rechargeable battery and a Type-C charging port (as should all charging ports be!), and will fit easily in any fridge while lasting up to 15 days on the automated maintenance pattern.
Choosing the right container for getting rid of fermented food odor in your fridge
Should you keep your kimchi in a kimchi jar?
What about Pyrex or Tupperware? How about plastic bags or a dish covered with plastic wrap?
Glass or stainless steel over plastic and stoneware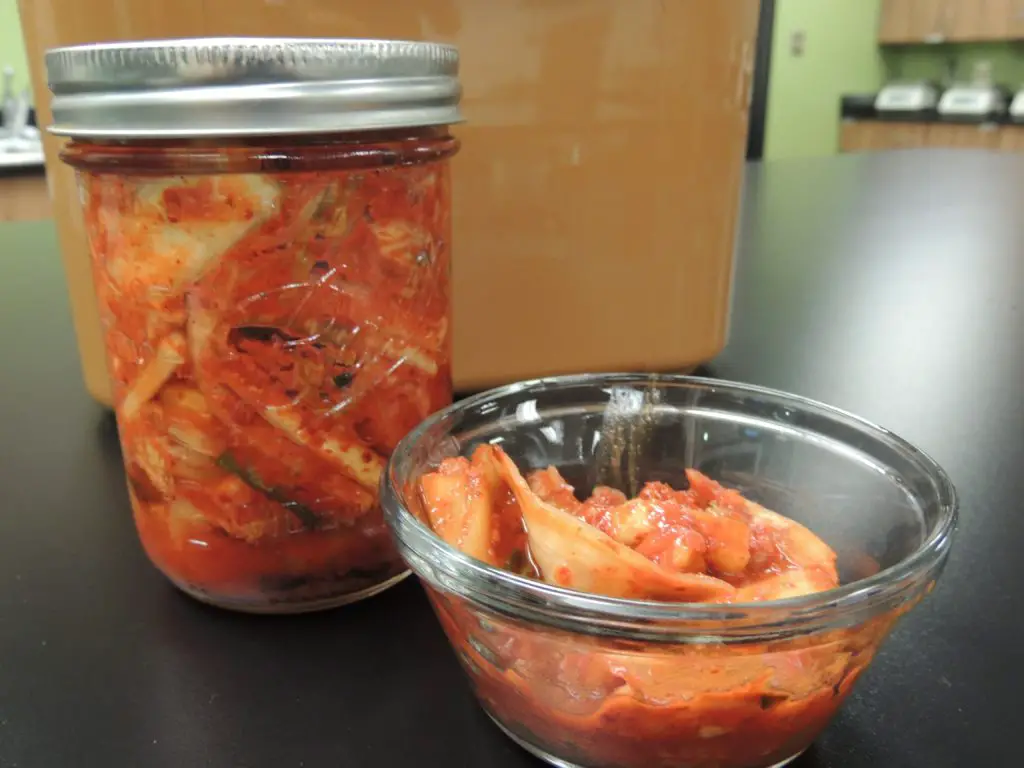 Not everyone knows this, but glass food containers like Pyrex hold fewer odors than either plastic like Tupperware or a stoneware kimchi jar.
Glass food containers are less porous than plastics and stoneware, meaning odors can't penetrate deep into the container. These are our favorite food containers as they are easy to clean, and odors don't cling to them.
Stainless steel is also a great option as it's much less porous than plastic and does a good job of containing the fermentation odors while cleaning easily.
Airtight vacuum-sealed fermentation containers
Popular among those who make their own kimchi and other fermented foods, airtight vacuum-sealed kimchi containers are also great for storing your kimchi in addition to making your own.
E-Jen Premium Kimchi, Sauerkraut Container Probiotic Fermentation with Inner Vacuum Lid (Earthenware Brown, 1.3 gal/ 5.2L)
Easy to Use! Essential product for storing and fermenting kimchi, pickling vegetables, and making delicious sauerkraut.
Simplicity! The combination of ancient Korean earthenware principles and modern technology with the highest quality polypropylene plastic makes the ideal fermenter.
Healthy! Adjustable inner pressing plate minimizes air inside container, promoting an anaerobic state benefiting the growth of probiotics (lactobacillus).
Odor free! Double lids (including inner lid) contains and blocks odor and smells better than most containers, also in kitchens and refrigerators.
Safe! Food safe, dishwasher safe, freezer safe, microwave safe, heat and cold resistant. All materials are BPA, DEHP and lead free.
Last update on 2023-11-29 / Affiliate links / Images from Amazon Product Advertising API
These containers are insulated double-layered and clamp closed to create a vacuum seal to keep the air from affecting the fermentation process as well as keeping the gases from escaping into the room.
While these may not be for most people they are a great option if you frequently need to store–or make–kimchi.
Plastic wrap is not enough to prevent kimchi smell
If plastic food containers are a less efficient method of containing fermented food smells, plastic wrap is even worse. Where plastic containers can snap closed and many fit quite snug, plastic wrap–no matter how tightly you apply it–just can't create a good seal.
The thinner material of plastic wrap also means that odor can go through the material itself much easier as well. All of this makes plastic wrap barely better than having an open container of kimchi in your fridge.
Consider a kimchi fridge
But there is one more way to deal with kimchi odor that doesn't involve your existing refrigerator. If you love kimchi, why not keep it in its own refrigerator?
Specialty refrigerators can heat and cool your kimchi to keep it at a more consistent temperature for depth of flavor—and no kimchi stink in your main refrigerator!
LG LRKNS1400V 30 Inch French 4-Door Kimchi/Specialty Food Refrigerator with 14.3 cu. ft. Capacity, 14 Total Bins, Cooling Care, Multi Storage Mode, Freshness Guard Cover, Multi-Air Flow™ System, and Energy Star Certified
30 Inch French 4-Door Kimchi/Specialty Food Refrigerator In addition to kimchi, store seafood, select wines, cheese, and other perishables with a Cooling Care system that is perfect for preserving specialty foods with specific temperature and storage requirements.
14.3 Cu. Ft. Capacity Spacious fresh food and freezer capacity can handle all of your food storage needs.
Cooling Care Creates ideal storage for kimchi and other specialty foods that require specific cooling environments. It supplies cold air every 6 minutes through 20 air vents located throughout the refrigerator to keep the internal temperature consistent and reduce fluctuation.
Multi Storage Mode Fermentation Mode, Normal Fermentation, Kimchi + Fermentation, Storage Mode, Produce & Meat/Fish
Freshness Guard Cover Keep your fruits sweeter, your seafood fresher, your kimchi tastier with a freshness guard cover that reduces cold air loss and keeps moisture in, enhancing the flavor of your specialty foods.
Last update on 2023-11-29 / Affiliate links / Images from Amazon Product Advertising API
Kimchi refrigerators aren't cheap, but if you frequently store large amounts of fermented foods and want to keep those separate from your non-fermented items a specially designed refrigerator is a great option.
Final thoughts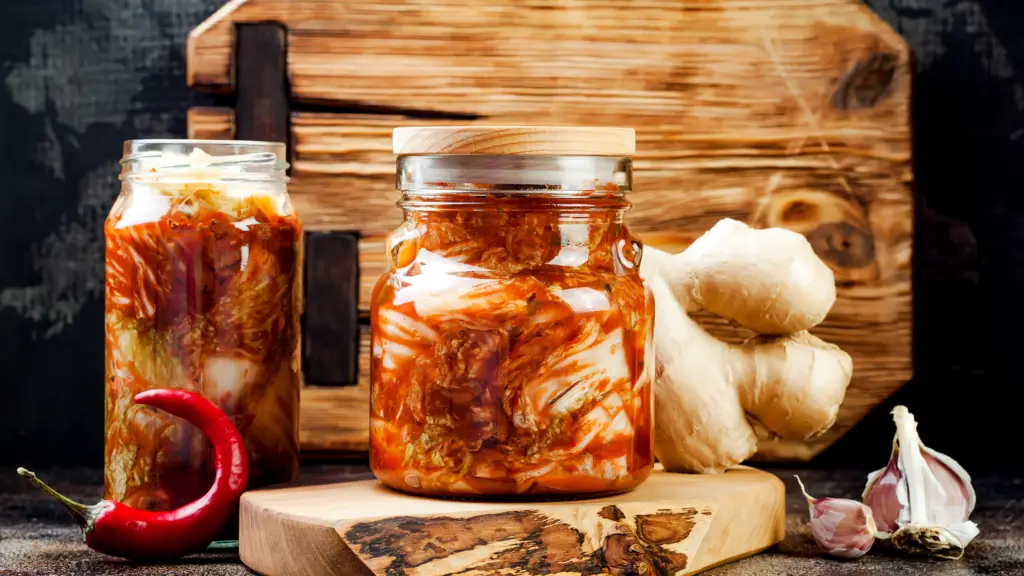 We love kimchi and enjoy the fermented veggies frequently, so being able to keep the fridge (and everything else in it) free from the overpowering odor–as delicious as it is.
We hope that this article has helped you out with solving this problem. Do you have any questions? Any great tips we've missed? Leave them in the comments below and let us know!