Disclosure: This page may contain affiliate links. If you purchase a product from one of our links, we could receive a commission from the seller, however, these do not influence our editorial choices. We aim to recommend products we believe in and to not mislead our audience. Learn More »
Socks and underwear. We all need them! But sometimes, we don't have deluxe, deep dresser drawers to put them in.
With many people living more mobile, transitory lifestyles and simply living with less "stuff" in general, or living in smaller spaces, it's becoming less common to have a big dresser in a small space. People are finding new and creative ways to store their clothing for their fast-paced, low-impact, efficient lifestyles.
When it comes to storing your socks and underwear, if you don't have a dresser, don't worry a bit! You have plenty of options for storing these all-important undergarments.
We've compiled a list of several efficient, affordable, and space-saving alternatives for organizing your socks and underwear.
How to store socks and underwear without a dresser
There are several storage options available, to help you store your underwear without a dresser. Home organization items such as hanging shoe racks, closet hooks, organizer-dividers, stand-alone shelves, plastic desktop drawers, and more are excellent methods for keeping your undies stored in a tidy fashion.
Hanging vertical shoe racks
Sale
Whitmor Hanging Shoe Shelves - 8 Section - Closet Organizer - Grey
Neatly stores and organizes 8 pairs of shoes without taking up any additional floor space
Perfect for organizing bedrooms, closets, laundry room, play room, college dorm rooms, Whitmor's hanging organizer provides storage for small clothes, toys, towels & accessories
Made to last; strong yet breathable fabric; reinforced seams for additional strength and support
Dimensions: 11.5 x 5.5 x 41 inches
Quick set up; metal hooks hang from closet rod or garment rack
Last update on 2023-11-17 / Affiliate links / Images from Amazon Product Advertising API
This is one of our absolute favorite methods for storing socks and underwear. Not only are hanging shoe racks ridiculously easy to set up, take down, and transport, but they also minimize square footage space because they're vertical! At the same time, many of them have enough cubic volume to not only store all your socks and underwear, but potentially your entire wardrobe, depending on how much clothing you use each week.
These shoe racks can hang over a door, or hang from a closet rod, and require virtually zero setup or construction. Some of these racks have as many as six compartments, and sometimes more, depending on how tall they are. They can hang in the corner of your room or your closet, and only take up a tiny amount of precious floor space.
Whether you live in a room in a house, a tight basement, or a 300-square-foot efficient studio apartment, hanging vertical shoe racks provide the absolute most storage space for your socks and underwear while taking up the least amount of square footage and having almost zero setup work.
Closet hooks
Do you hate folding underwear? So do we. Living a fast-paced lifestyle with more demands than ever, few of us have the time to spend folding our underwear each week.
That's why closet hooks are one of the absolute best options for storing your underwear in an efficient, simple way. The best part is there's no folding required. There are a few different type of hooks that we like, so you have options depending on your goals or ideas.
S-hooks
12 Pack 6 Inch S Hook, Large Vinyl Coated S Hooks with Rubber Stopper Non Slip Heavy Duty S Hook, Steel Iron Black Rubber Coated Closet S Hooks for Hanging Necklace Jeans Plants Jewelry Pot Pan Cups
Rubber coated and Stopper Design:Our large s hook surface are coated with vinyl rubber and two rubber stopper on the end, which can Anti-rust, resist falling and slipping.These rubber closet hooks would not Fall off when you remove the item.
Hight quality Material:Rubber coated s hook are made of premium thick iron steel, which is strong to hang heavier items and not easy to deformed.Heavy duty multi-use utility hooks with vinyl coated surface is smooth and non-slip can't scratch your scarf, clothes, jeans and Other hanging items.
Size: These 6 Inche closet S hooks have large and small heads, One large opening end is 2.5 inch/6.4cm ,the orther is 1.3inch/3.3cm,witch can adapt rods of different widths.
Easy to Use:Not require to use tools,nails, screws, or adhesives, black rubber coated hooks are easy to hang on existing objects.large vinyl coated s hooks can hang lots of item to help you save more space in your home.
Multiple Uses: Closet S Hooks for Hanging can Compatible with most iron, wire, baskets, bins, wood and plastic shelves and crates to hang your items in in the closet rod, garage, mud room, office, pantry, laundry room and kitchen,even outdoors.
Last update on 2023-11-17 / Affiliate links / Images from Amazon Product Advertising API
If you have extra hanger rod space (or somewhere else to hang stuff), you can use these super-helpful S-hooks to hang your bras, underwear, and even socks from them. We love how versatile these hooks are and use them for tons of stuff in our closets.
Command adhesive hooks
Command Medium Designer Hooks, Damage Free Hanging Wall Hooks with Adhesive Strips, No Tools Wall Hooks for Decorations in Living Spaces, 9 White Hooks and 12 Command Strips
INCLUDES: 9 hooks, 12 medium indoor strips; 1 hook holds 3 lbs
ORGANIZE DAMAGE-FREE - Say goodbye to holes, marks, or sticky residue on your walls, doors, cabinets, or closets; Command Hooks by 3M are easy to use and help keep your walls looking beautiful
NO TOOLS REQUIRED- Hang hats, bags, dog leashes, scarves, and accessories where you want without nails or a hammer
STRONG AND VERSATILE- Command Designer Hooks hold strongly on a variety of indoor surfaces including painted walls, finished wood, glass, tile, metal, and other smooth surfaces
REMOVES CLEANLY- Reorganize when inspiration strikes; These wall hooks leave no sticky adhesive behind; Perfect to use inside cabinets and closets, in your college dorm, apartment, home, and office
Last update on 2023-11-17 / Affiliate links / Images from Amazon Product Advertising API
We all love Command hooks and strips thanks tot heir damage-free hanging capacity. While it may not be for everyone, it's a great option for some closet storage tasks.
You can use adhesive strips with hooks that you can apply directly to the inside door of your closet, and depending on how many hooks you want to have available, this only takes a few minutes to do.
Once your hooks are ready, you can hang your underwear by the waistband on a hook, and you're done! Some people can fit two pairs and sometimes even three pairs of underwear on one hook, but it depends on how thick your underwear is.
It might be embarrassing for strangers or visitors to see your hanging underwear if the inside of your closet is readily visible, but that may not be as big of a deal for you. Whatever works for your lifestyle!
When it comes to socks, these can be hung on hooks as well, although you might have to get a little bit more creative with how you fold your socks to allow them to hang.
If you're a person who likes to have a supply of at least two weeks worth of underwear and socks on hand, you may need to use more hooks, but as long as you have the space to do it, you'll be just fine!
Sock and underwear organizer-dividers
Sale
GOGOODA 4 Pcs Underwear Drawer Organizers Divider, Socks Bra Organizer and Storage Boxes for Lingerie, Bra, Undies
Time Save Organizers: With our underwear organizers, you will not be bothered through messy drawers or wardrobes for panty or bra while in a rush to get ready.
Our Collapsible drawer organizer includes 4 bins: 6 cells ( for scarves, ties,makeup brush), 8 cells (for underwear, briefs, ties), 5 custom large cells (ideal for bras up to 38D), 24 cells (perfect for socks), Great for tidly store your items, you can even use them to store stationery.
Premium Material: Gogooda drawer organizers made of durable fabric and meticulous stitching make them durable for repeated & long time use, keeping your items organized and make storage look stylish.
Space-saving Design: These 4 drawer organizer box can be folded flat to save space when not use. Simply unzip the zipper and fold flat to store.
Great dresser drawer organizer for tidy your closet and drawer, also a ideal gift for others. You will receive 4 pack underwear drawer organizers and our prompt and friendly customer service.
Last update on 2023-11-17 / Affiliate links / Images from Amazon Product Advertising API
If you want something a little bit more mobile and customizable, sock underwear organizer-dividers are just what you need.
These organizer-dividers are very space-efficient and can be moved and stacked in different ways according to your living space. Each organizer box typically has anywhere from 8 to 16 or more partitions within the box, and you can put underwear, socks, jewelry, and other things into each partition.
A great feature of organizer boxes is that they can be moved at a moment's notice. There is truly no setup required for these, other than simply putting your socks and underwear into them!
A standalone shelf
Sale
SRIWATANA Floating Shelves Wall Mounted, Solid Wood Wall Shelves, White
Solid wood & water-based paint: The wall shelves are made of solid wood which is sturdier, more moisture-proof and environmentally friendly than MDF. And water-based paint would not produce pungent odor compared to oil paint.
Classic & Rustic Floating Shelves: The U-shape shelves featuring white finish will be a perfect compliment to your bedroom, kitchen, living room, office or more.
Functional Wall Shelves: Various dimensions offer adequate space for storage. The solid wood shelves help you reduce clutter in a small room by elegantly storing your books, vases, family pictures, and other trinkets on the wall mount shelves. L: 16.7 x 4.7 x 3.9 in, M: 14 x 4.7 x 3.4 in, S: 9.6 x 4.7 x 2.8 in.
Endless Shelving Possibilities: Group the easy-to-install floating shelves together or hang them separately to display books, photos or plants in the living room, hold beauty products in the bathroom , or organize spices and jars in the kitchen.
Unique Gift Choice: These solid shelves must be an ideal gift for displaying collectibles, photos, books, artworks and more.
Last update on 2023-11-17 / Affiliate links / Images from Amazon Product Advertising API
If you're feeling a little bit more hands-on and want a storage option that's sturdy and also allows you to use your vertical space, a single standalone shelf can be a great way to store your underwear and socks.
A single shelf might have two or three mounts below it that will require you to use a hammer or power tool to secure the shelf with nails or screws. Some shelves may protrude from the wall as many as 8 inches or more and can be as long as 3 or 4 feet.
Depending on how many items of underwear and socks you have, and how you fold them, you can fit a decent amount of clothing on one of these shelves. You could even use dividing organizers or plastic drawers on the shelves as well.
However, if you're a person who likes to have a large amount of clean underwear and socks on hand, a single shelf may not provide adequate space. It all depends on your clothing inventory.
Plastic desktop drawers
Small Desk Organizer, Stackable Drawers, Clear Desktop Storage Box for Craft, Stacking, Office and Home (Wide Open Version, White) -1 Count
QUALITY CONSTRUCTION: Made of durable BPA-free, Chlorine-free, shatter-resistant plastic. The edges of the desk organizer are smooth and round. Sturdy and safe to use.
CLASSIC SIMPLE DESIGN: The stacking organizer bin is just simple as you wish, classic white and clear combined color with one drawer, suitable in the bathroom, craft room and office. The desk organizer creates a convenient, space-saving solution for you to get organized while maintaining a classic and sleek look.
SAVE YOUR SPACE: There is a gap at the top to make the organizer drawer stackable. They can stack neatly and securely. You can effectively use vertical space by stacking the drawers together. Stack multiple drawer units to customize storage space.
EASY ACCESS DRAWER: features a built-in handle on the bottom. You can pull and close the drawer smoothly. Clear drawer front allows you to easily identify contents inside. Everything is so easy to find! Just pull out the drawer and all contents are handily reachable.
FUNCTIONAL & VERSATILE: This compact organizer works well in many rooms throughout your home. Such as a bathroom for cosmetics and skincare products, a craft room for sewing supplies, a kids' room for small toys, a home office for pens and markers, and so on. Use this convenient unit to add storage space wherever you need it. This storage bin is easy to organize small or crowded spaces and keeps clutter contained and tucked away.
Last update on 2023-11-17 / Affiliate links / Images from Amazon Product Advertising API
If you think plastic desktop drawers are only good for papers and documents in the office, think again!
These desktop drawers you might have seen in places like office furniture stores or computer and electronic stores can be great options for storing your underwear and socks, especially if you want something that's sturdy and has more of the feel of a dresser, but is still lightweight and portable.
Plastic desktop drawers have plenty of volume and can store your neatly folded underwear in one compartment and your socks in another, usually with plenty of room left over.
The storage compartments also act as a nice surface on top for keeping features, jewelry, a clock, or anything else you'd like! They're sturdy and strong enough to have the feel of furniture without the heaviness and bulk of a dresser.
Empty Pringles cans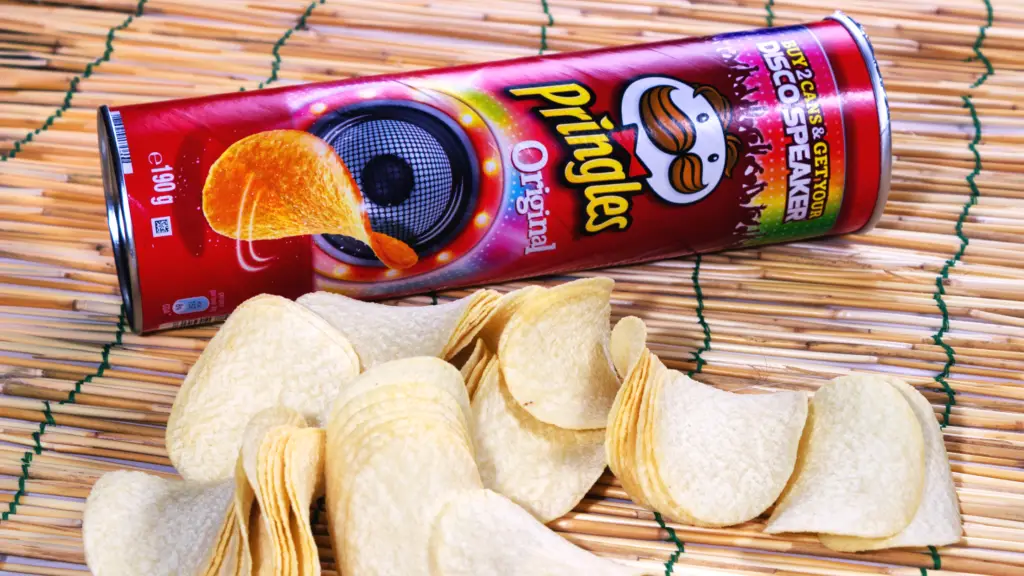 We know that this one's pretty far out there. But if you have a really outside-the-box personality and love to get creative while being really cost-effective, this method just might work for you!
You can use empty Pringles cans to store your socks and underwear by category, color, and so on. Simply roll your socks into a small enough shape, then stack them inside the empty Pringles can!
You can do the same with your underwear. This takes up almost no space at all, and you can move your storage cans anywhere you want. You can even keep them under your bed.
Some people like to be creative and cost-effective by using a similar method with empty plastic soda containers, milk containers, ziploc bags, and more. This might be a little Bohemian and outside the box, but at least it's another fun idea to consider!
Final thoughts
While we've touched on some of our favorite go-to organization methods for storing your unmentionables, this is really just scratching the surface. There are endless possibilities for your storage needs, and what may work for one person may not work for another.
Taking these ideas as a starting point, feel free to experiment and find a storage solution that works for you and your space and needs. It might involve a bit of experimentation or iteration on these ideas, but you'll be able to build out a solution that works for you!
Is there anything here we missed? Any can't-live-without tips, tricks, or products we should add to our list? Leave a comment down below so we can update our guide!